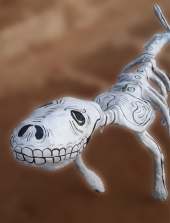 Catrines, Catrinas and alebrijes are recently recognized Mexican handicrafts invented by Pedro Linares López in 1936 in Mexico D.F., made of different types of paper or carved wood and painted with cheerful and vibrant colors.
The cardboard crafting is a technique used for the elaboration of piñatas and judas, that consists in the modeling of the paper, usually it is periodic with cardboard. The technique used for alebrijes is with a structure of wire or reed, the modeling with paper and cardboard, with different techniques of finishing and painting.
The Catrines and Catrines have their origins in the engravings of José Guadalupe Posada in what represented the bourgeois of their time (called by the middle class and low "catrines") through skulls dressed in elegant clothes and participating in social activities. As far as the alebrije, its origin, as far as "painting and paper" refers, is in the City of Mexico, Mexico D.F. And its creator, Pedro Linares López, says that being very sick, on the verge of death, he dreamed that he was in a forest where he saw these beings accompanying him on his way back to consciousness and also heard a group of creatures screaming : "Alebrijes", "Alebrijes", hence he used this word he heard in his dream to name the figures he saw.
Pedro Linares began as a "cartonero" artist who lived very close to the heart of Mexico City, in the neighborhood of La Merced Balbuena (behind the Sonora Market), manufacturing masks, piñatas and Judas dolls for local festivities and in other states of the Mexican Republic.
The catrinería began in 2007 as an occupational therapy workshop for seniors in the day stay "Margarita Maza de Juárez" dependent on the state's DIF (Desarrollo Integral de la Familia). Following the successful participation in the offer of the House of Culture of Puebla, it was decided to open workshops to the general public due to the interest and demand of visitors to learn more about the technique of Mexican cartonería.
Subsequently, the Institute of Handicrafts of the State of Puebla (San Roque) was interested in the work done in the workshop and offered a space to Catrinería for the teaching of their courses, which to date are taught in this area.