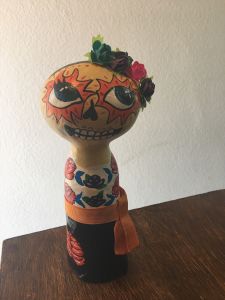 Lola was the best cook in Chiapas.
Every time there was a party in her village she was in charge of preparing the menu.
On her 25th birthday, she made a large meal and invited the whole town but as her birthday coincided with the Day of the Dead party, no one came.
Lola was very sad and went to Mount Mactumatzá with all the food she had prepared and no one ever saw her again.
From that moment arose the legend that in that place there is an enchanted cave.
Throughout the year it remains hidden since the place where it is located is of pure rock.
Only one day a year it opens. The legend says that inside there is a large variety of food such as tamales, atole, pozole, drinks and fruits and that there are also lots of extremely friendly people and you can eat everything, but you can not take anything out and before midnight it is necessary to leave that place, because at that time the cave will closed and will not open until the next year, at the same time and the same day, which is every Day of the Dead.
Every year, Lola awaits to celebrate her birthday at an endless party.